7-9 Dec 2001 - Davos, Switzerland
A total of 21 UKTE's and friends headed into the Swiss Alps for a pre-Christmas skifest, and Davos delivered the goods - plenty of snow, sun, and schnapps.
Some chilled late night drinks by the fire at the Belvedere after the group came by plane, car, donkey cart, etc.
Mindy took a pass on the cocktails after her guest spot on the UK TV show "Airport"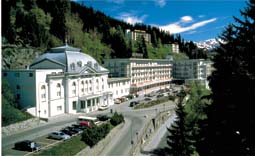 The Belvedere was as-advertised: Fabulous
The VERY self-paced "schedule" of the trip meant pockets of UKTEs all over Jacobshorn and Parsenn. Can you pick which of the faces below were out at Club Cubana until 3:00 a.m.?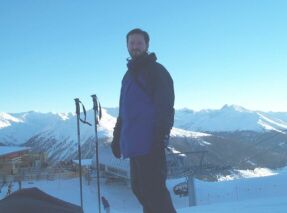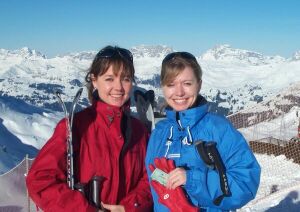 Mountain Man Macdaniel and the Eckert sisters pause for advertisement-quality pics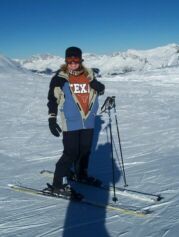 Who is that masked 'Horn? Shannon shows her colors and Rick & Mindy take a brief, 2-hour training break

More Cheese anyone??? Fondue-fest 2001
The whole crew gathered for the traditional Sat. night Fondue-athon, which featured a wide selection of food and only the finest wines...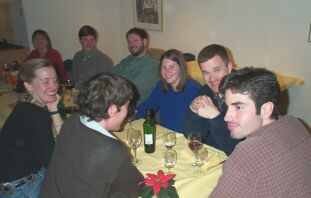 The law and grad students continuing their rigorous cultural education work and ToastMaster Chris holding class
Don't you have any bigger pots? Maybe I can grab their's when they're not looking...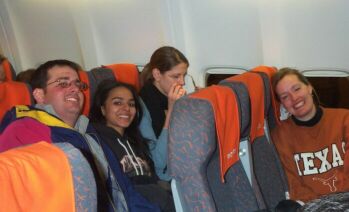 With only a couple of facial lacerations (He was a HUGE Swiss guy, Tony) and Shannon qualifying for her own row,
the group heads back to the flatlands with their duty-free booty of chocolate and liquor