Pictures from The 2nd Annual UKTE Softball Classic
Saturday August 23rd, Regents Park, Central London
Featuring the Republican vs. Democrat Abroad GRUDGE MATCH!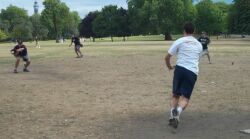 Softball, relaxation, merriment, and a touch of DA/RA political controversy - of course! - made for a great day of Americana in Regents Park
Click on the pics below for the full-size versions
A few wide shots of the the action on the field
DA bringing home a run against RA; Patrick hitting a hot one right back at Andy;
Carra right before her clutch, last out single to save the day
At-the-plate action shots, who needs Sports illustrated?
Off the diamond, loads of roster scrambling, onlooking, and yawn, just plain chilling out
In the field, at the plate, and making his feelings known during the DA/RA scrum,
Tim "Hot Tamale" Russo made his presence felt
What to do after 6 hours of beer drinking on the field? Hmmm, The pub beer garden, of course!
It was a 90-mph hit to the eye, honest!; The buckeye contingent with poser "Grandma-lived-There" Rick ; Ryan doing some strange Southwestern U one-eyed knute somethingorother
Tournament Results
| | | |
| --- | --- | --- |
| Visitors | Home | Winner |
| Democrats Abroad | Rest of the World | TIE |
| Republicans Aboad | UK Texas Exes | UKTE |
| UKTE | ROW | UKTE |
| DA | RA | RA (by a hanging chad) |
| ROW | RA | ROW, 'cause RA went home! |
| UKTE | DA | DA |
The 2-1-0 Victorious UK Texas Exes Team
WHERE were those skills back in June???
Final "Standings"
Champions: UK Texas Exes 2-1-0
Democrats Abroad: 1-1-1
Rest of the World: 1-1-1
Republicans Abroad: 1-1-0
Thanks to everyone for coming out & making it a great day!!
A HUGE thanks to those that made it all happen:
Patrick "Come on, just pitch one more game" Hearn, for arranging EVERYTHING
Jeff "Why Me?" Nichols, for refereeing the contentious RA/DA grudgematch
Tim "His Highlight Reel is Above" Russo for Umping
Eileen "Sports CameraWoman Extraordinaire" Pestorius, for most of these pics
And Dave , Leta, Tim and Patrick for Managing the Teams
Cheers,
Rick "What's he on about now" Kelly