!!!

December 5th-8th, Kaprun, Austria
This Page is Under Construction, just wanted to start getting some of these up ASAP, PLEASE email me more of your pics and I'll get them up.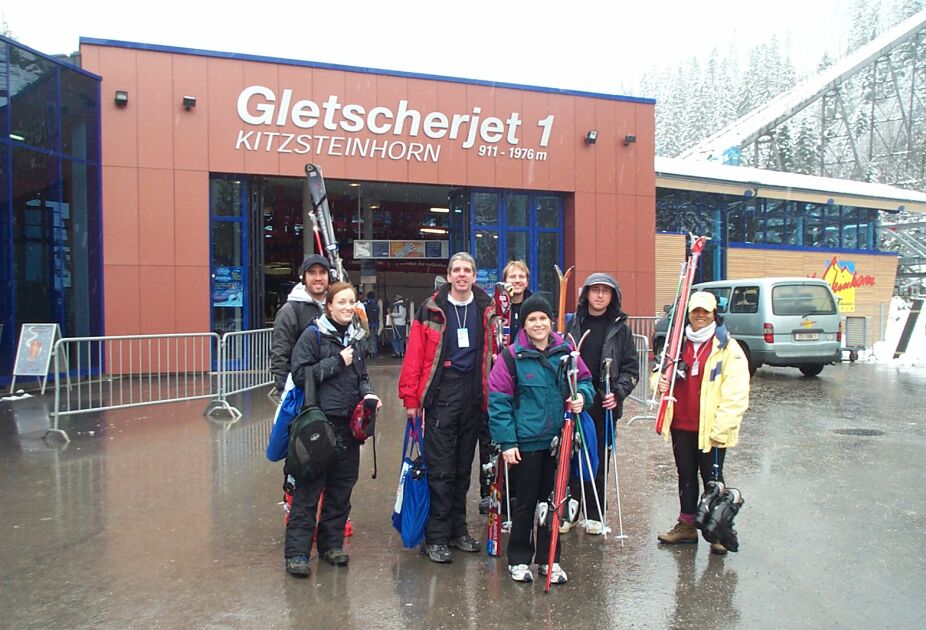 Portions of the group heading up the Kitzhorn and others chilling afterwards at 'Rosie's'. Just like other years, we never got everyone at the same place at the same time. This may have something to do with the individual "shots-vs.-sleep" decisions made during the weekend
This year we moved locations to the glacier and resort in Kaprun, Austria to found the BEST early season powder we've seen in 5 years, several beers were also consumed
All the Pics below are thumbnails, click on them for larger versions. I also have higher resolution copies of these pics if you want them, please email me. - RK
Waiting for the Ski bus in the snow(!); Gina checking out the mid-station helicopter launching; Earl & Colleen soak in the sun; and the crew in the Gondola heading up; Christi & David at the Summit
Slopeside Phototech; Sarah ponders her pro skier aspirations; David takes in a healthy lunch at the Summit restaurant; Jonathan escapes the down-gondola mosh pit; and Gina relaxes after a pre-planned 'rest' after a face plant

Rick doing lord knows what; Aimee knitting in her UV-proof ski hat; Rick & Paul get a little pre-ski inspiration; Scary-looking Ryan explains how he did that 720 degree double-daffy to Colleen & Paul; Christi either being saved or doing the seated version of the Cotton Eyed Joe
Gee, things look pretty calm during the Fri night dinner and drinks (heh, heh), although not sure why Rick is grabbling the brass ass of a guy in a gorilla suit or exactly what Jason is doing in the last pic, maybe he needs to change his diet a bit
Pics from the Traditional St. Nicolas Day Dinner at the Orgler. The Group chowing down (Yes! more screw top wine!!); Christi attempts to explain what the &$% these guys in gorilla suits and scary masks with Santa are all about; the ladies under attack by one of them; who needs A-HA when we've got Hans & the Highwaymen (can't believe they wouldn't play Freebird); and Santa's henchmen playing with fire (????)
Meanwhile, Santa checks out the buffet table; Lorin replies "No, but I'm willing to Learn"; St. Nick spreading good will; Don't worry Gina, we won't tell Stephen about your new friend blowing in your ear
Downloadable pics from the top of the page; Gina verrry happy this pic being taken; Paul & Rick soaking up the view (no, not the schnapps) from the Summit
Late Saturday Night - A Schnapps Odyssey; Lorin & Rick don't seem to mind its a FAKE fire, idiots; the crew prior to starting to break every piece of glassware within reach; Lorin with his wenches; please note that Ryan was WELL into "I love you man!" mode in this pic; After striking out with the women, Lorin decides a slightly less subtle approach with Rick
So what do you think? Did these highly intelligent guys actually
make their flight on Sunday or 'extend' their trip an additional night at the Munich Airport?
Kaprun's 4-Star hotel Orgler, our 'Base Camp' - sweet