Pics from the 2001 Texas - Texas A&M Game
We're off to the Big XII Championship!
Saturday, November 24th @ Diageo, Mayfair, London
100+ UKTEs and London A&M Club members joined together to watch the annual battle for Texas Bragging Rights. A great night at Diageo (thanks again to Robert Moore!) and we all learned a little US history from those loverly AFN public service announcements!
Don't ya just love posing for the obligatory group shot?
Diageo's Orange Walls (especially for us?) along with lots of Burnt Orange makes some of the lighting in these shots kinda, er, 'artsy'. For the second "Phototech' page of candid shots click HERE.
Thanks to Alfred Macdaniel, Sara Galvan, Mark Singer, Morgan Brazil, and Josh Bowlin for helping out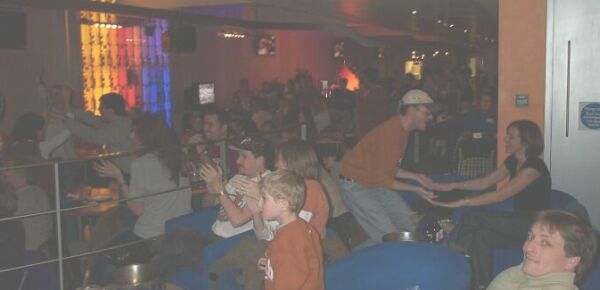 Fireworks from the 2nd TD that made the difference. Ted (right) shares the love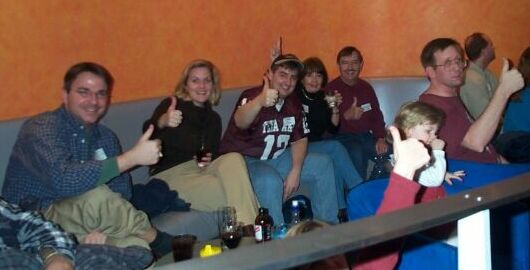 Our Aggie guests enjoying the day, then conducting some strange tribal ritual...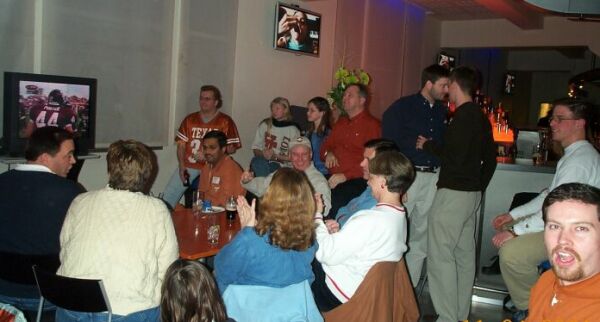 The Monster Crowd!